"This movie swooped in like a film ninja as it was reported a while back that White, Goss and Couture were filming a movie in Europe but it literally came in under the radar and premiered on Netflix a few weeks back. THE HARD WAY is one of those pleasant action gems that taps you on the shoulder and says "Hey everybody, check me out!" This is one fan that is sure as hell glad he did as I finally sat down to partake in its awesomeness last night and let me just tell you, I rewound a whole lot of it just to see Michael Jai White do his killer moves over and over again. It is also important to mention that I get into some major spoilers in this review because you just have to to talk about the best part of the movie so if you haven't seen the film yet, stop reading, go watch and enjoy and then come back.
As the film starts out, Mason Bellows (Luke Goss) and Cody Payne (Grant Campbell) are in hot pursuit of a suspect who is on the run. Mason and Cody are members of the elite ADS which is a top tier government organization but unfortunately something goes awry and Cody is shot and killed during the firefight the ensues. Now the only problem is Cody has a brother and that brother is John Payne (White) who was once a member of the same unit now retired and staring up a jazz club back in New York. When Payne learns of his brother's death, he sets out to Romania on a mission to find those responsible. Payne reconnects with a former comrade named Arnold Briggs (Couture) who is now the head of the ADS and proceeds to put the pieces together and learns that Cody and Mason were hot on the trail of the secretive Toro who is the leader of a new and deadly drug syndicate who it running rampant over Europe.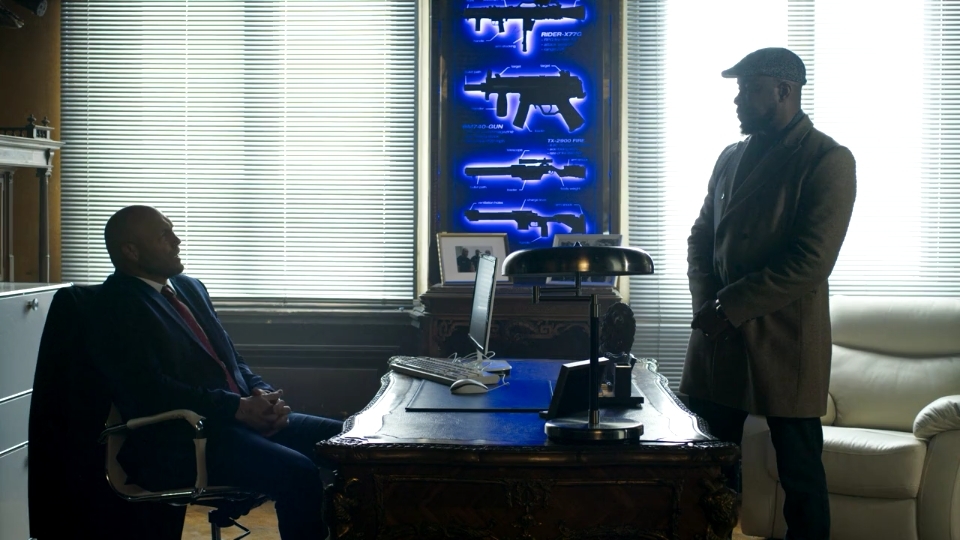 Payne must now polish off his lethal skills that made him a legend in the black ops world and as he teams up with Mason, the two venture out on a do or do mission that will test the limits of both men but the bad guys are going to find out THE HARD WAY that Payne is the one who is on control and he will virtually stop at nothing and go through anyone to find Toro and take him down.
Now it is important to mention that Michael Jai White is the complete package when it comes to making movies. He is not just an action star as he has made numerous films in all genres. White, who excels at action and on screen fighting also brings that much needed gravitas to the screen and when he walks into a room, you know the man means business and it is best to get out of his way. White is the real deal in fighting, although his character of Payne admits that he doesn't fight because that would imply that the other guy gets shots in at the same time, as he is an accomplished martial artist with years of experience under his belt. When he lets loose in an action film, fans are always in for a real treat and here he is in full on battle mode as the movie contains numerous scenes of fisticuffs and White kicking ass without so much as breaking a sweat.